As the successor to the popular Canon PIXMA PRO-100S, the Canon PIXMA PRO-200 has high standards to meet, but it does so brilliantly. With a 15% decrease in volume, an almost 28% reduction in weight, and a smaller footprint than its predecessor, the new A3+ printer takes up less space but is capable of printing large panoramic images that are up to almost a metre in length.
Combining professional-level print quality with simple controls and time-saving features, the Canon PIXMA PRO-200 is the perfect first step into A3+ printing. The new flagship PIXMA PRO photo printer delivers an A3+ photo in just 90 seconds* and uses an enhanced 8-colour ChromaLife100+ ink system to produce vivid borderless prints on any media.
"If your work involves a lot of bold colours, the Canon PIXMA PRO-200 will be perfect for you," says Canon Europe Inkjet Specialist and printing expert Suhaib Hussain. "It sits right at the top of our PIXMA series and provides a great entry point into our professional range of photo printers."
The Canon PIXMA PRO-200 inherits a number of technologies from the pro-level Canon image. This includes support for Canon's Professional Print & Layout (PPL) software, which makes it easy to achieve screen-accurate prints. If you've put off turning your digital images into beautiful photos because you've found colour management too complicated, PPL will give you the confidence to try again.
London-based food and drink photographer Natasha Alipour-Faridani put the Canon PIXMA PRO-200 to the test to demonstrate how its standout features can take your photo printing to the next level.
1. Vivid colours with ChromaLife100+ inks
With its 8-colour ChromaLife100+ ink system, the Canon PIXMA PRO-200 produces vibrant, long-lasting prints with Canon photo papers. "These are our elite dye-based ink formulations," says Suhaib. "The Canon PIXMA PRO-200 introduces enhanced magenta and black inks. Users will definitely notice an improved colour gamut in the magenta and red areas of an image along with deeper blacks and blues compared with the Canon PIXMA PRO-100S."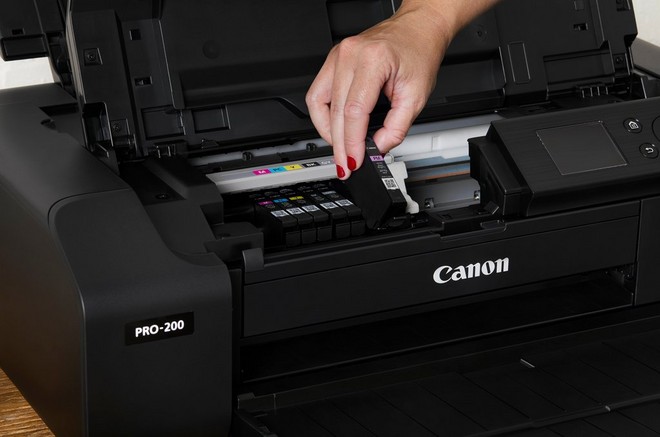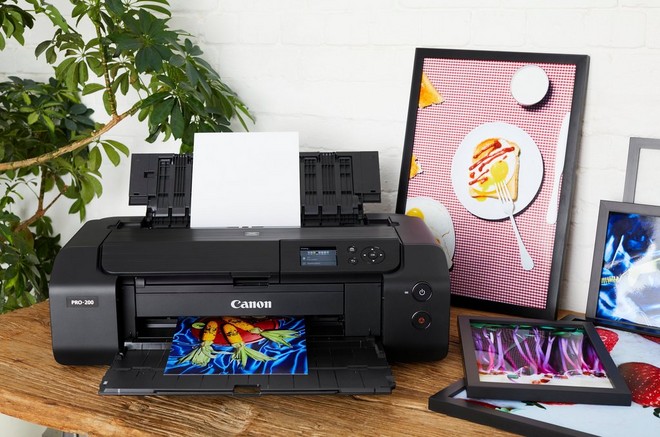 2. High-speed A3+ printing
Mirroring the high-speed capabilities of its predecessor, the Canon PIXMA PRO-200 can produce an A3+ print in just one minute 30 seconds*. "Speed has never really been the defining measure of a photo printer because at the end of the day it's the print quality that counts," says Suhaib. "But one of the remarkable features of the Canon PIXMA PRO-200 is that it can print at a really fast rate without compromising quality."
This combination of speed and flagship print quality will appeal to a wide range of users, from event photographers looking to provide an instant display, to enthusiasts and semi-pros who need to meet tight deadlines. "Let's say for example you're a photography student and you're looking to run prints off for your coursework or an assignment," suggests Suhaib. "The fact that you know you can get through these quickly on the Canon PIXMA PRO-200 is going to be reassuring."
Do you own a Canon kit?
Register your kit to access free expert advice, equipment servicing, inspirational events, and exclusive special offers with Canon Professional Services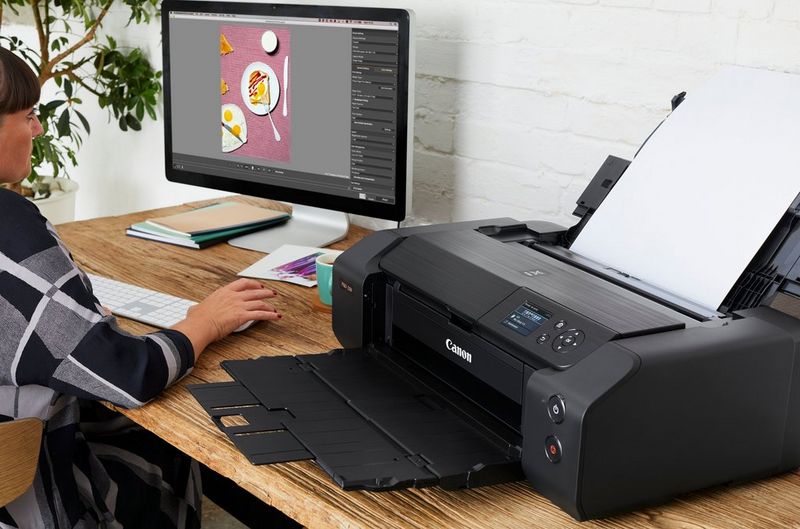 3. Effortless colour matching from screen to print
The Canon PIXMA PRO-200 supports Canon's Professional Print & Layout (PPL) software. Available as a free standalone application or a plugin that allows you to print straight from Canon Digital Photo Professional (DPP), Adobe Photoshop, and Lightroom, PPL makes it simple to create high-quality prints with its intuitive interface.
With its soft proofing and hard proofing solutions, PPL takes the hassle out of colour management. As well as enabling you to view a simulation of the final print on-screen, the software's Pattern printing mode will print out a contact sheet of thumbnails of your image.
"Each thumbnail has a different mix of colour, brightness, and contrast, so you can choose the one that gives you the look you intended," explains Suhaib. "It's then a simple case of going back to the software, dialing in the settings that are printed next to the thumbnail, and then outputting your final print. You can be confident that you'll get exactly what you wanted, and there's no wasting of ink, paper, or time."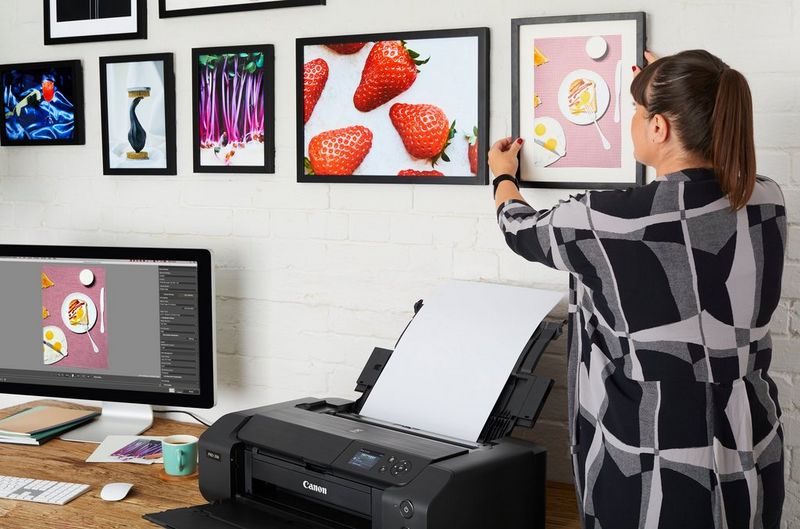 4. Enhanced prints with EOS RAW files
If you're a Canon EOS camera user, you can unlock additional advanced features with Professional Print & Layout when you're working with RAW files. For example, you can use the HDR Print function to reveal more detail in the highlight areas of a print without losing colour integrity.
If the image was captured using the Dual Pixel RAW mode available on the Canon EOS R5, Canon EOS R, and Canon EOS 5D Mark IV, the software's DPRAW Print mode can use the 3D data embedded in the RAW file to identify which part of the image you intended to have in focus. It will then apply smart, selective sharpening to that specific area rather than out-of-focus parts of the image as conventional sharpening would do, giving a more lifelike print with added depth.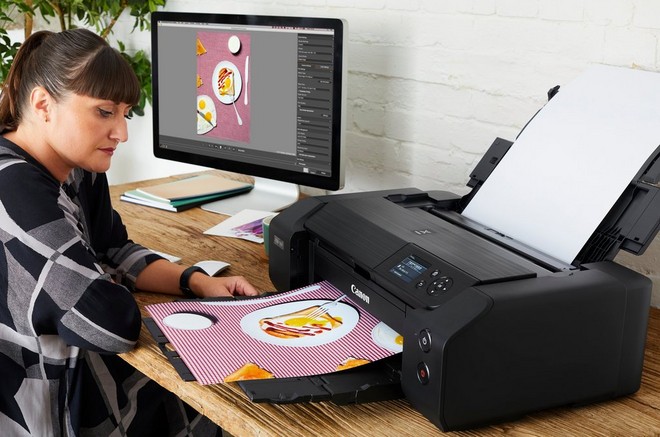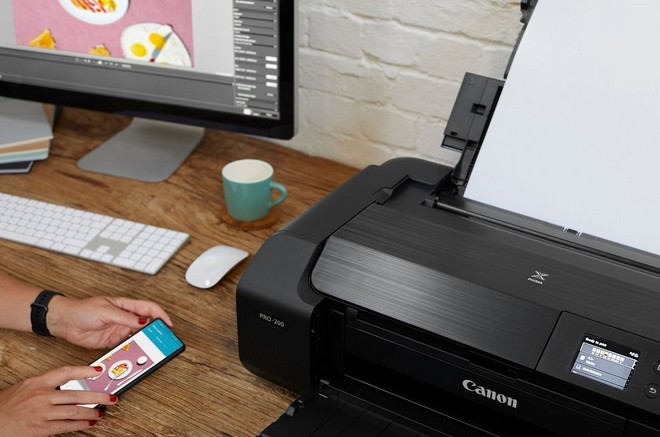 5. Borderless printing on a wide variety of media
The Canon PIXMA PRO-200 gives you the freedom to experiment with a wide range of different paper types and sizes – from 4×6 inches all the way up to A3+. Using the custom settings, you can extend that to 39-inch cut-sheet lengths for high-impact panoramic prints.
The Canon PIXMA PRO-200 is compatible with a choice of professional-quality Canon photo papers, including high-gloss, semi-gloss, and matte. It also offers borderless printing with the Canon fine art range, which has recently been rounded out with the launch of the Premium Fine Art Rough paper. The Canon PIXMA PRO-200 also supports popular third-party papers, including those produced by Canson, Hahnemühle, and Awagami Factory.
For even greater ease of use and convenience, the Canon PIXMA PRO-200 inherits the Canon imagePROGRAF PRO-300's Auto Skew Correction function. "If you make a mistake when aligning a sheet of paper, the printer will automatically fix that for you," says Suhaib. "It's another example of how the Canon PIXMA PRO-200 can take away the inconvenience of wasted paper, ink, and time."
The new printer offers two main paper-feed mechanisms including a top tray and a manual feed option. It also comes with a multi-purpose tray that enables you to print onto CDs, DVDs, and Blu-ray discs using the Canon PIXMA PRO-200's Direct Disc Print function – a useful option if you want to create a professional look for your image and video discs.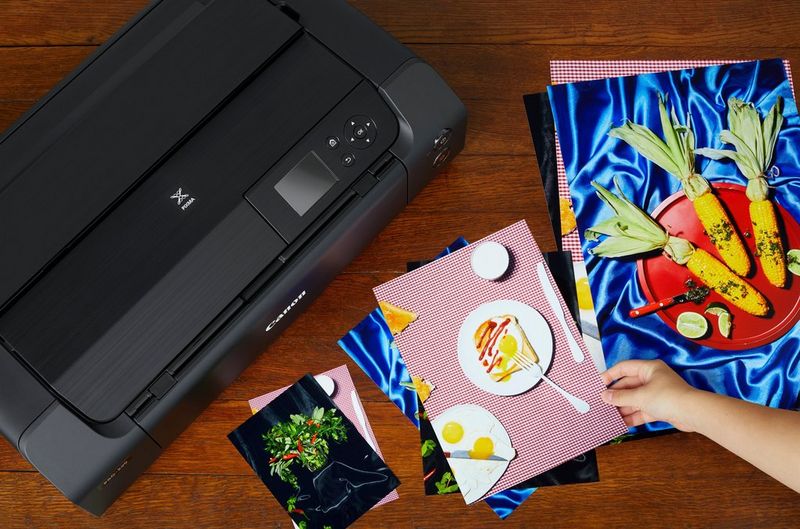 6. Convenient size, connectivity, and on-board controls
Thanks to its compact size, the Canon PIXMA PRO-200 won't take up much space in a home, studio, or workplace. Its dimensions are identical to those of the Canon imagePROGRAF PRO-300 and it's noticeably lighter than its predecessor the Canon PIXMA PRO-100S. At just 14.1kg, its weight has been reduced by around 28% compared with the outgoing model, with the overall volume trimmed by 15%.
As well as losing weight, the Canon PIXMA PRO-200 gains a new 3-inch colour LCD screen and control buttons. This adds the convenience of being able to monitor ink levels, make paper adjustments, change network settings and carry out a host of other operations directly on the printer.
Further convenience comes in the shape of its extensive connections. With Wi-Fi, Ethernet, and USB options available, you can print to the Canon PIXMA PRO-200 from tablets, smartphones, laptops, or desktop computers.