Helen Bartlett is passionate about family photography and shoots entirely in black and white for its timeless appeal. "It's all about longevity and pictures not just looking good when children are small, but when they're 20, 40, or 60," she says. "Black and white takes out the distractions of clothes and it becomes more about people, emotions, relationships, and the story rather than about what they're wearing."
Printed images have always been an integral part of Helen's work. "At the end of the shoot, I want the family to have something tangible, whether it's an album or framed prints to go on the wall," she explains. "Having a physical print is hugely important. I want people to look at the pictures and use them. If I just gave clients a disc, even the most tech-savvy parents would probably just put it in a drawer and forget about it."
Helen currently has her leather-bound albums and framed and unframed prints made at professional labs, but is keen to explore the process of making her own prints using Canon's range of professional printers. She was invited to experience one first-hand at Canon's west London office, with expert guidance from printing specialist Jay Sinclair. Helen brought along a selection of files from which to print and got to work with Jay. Let's see what she learned.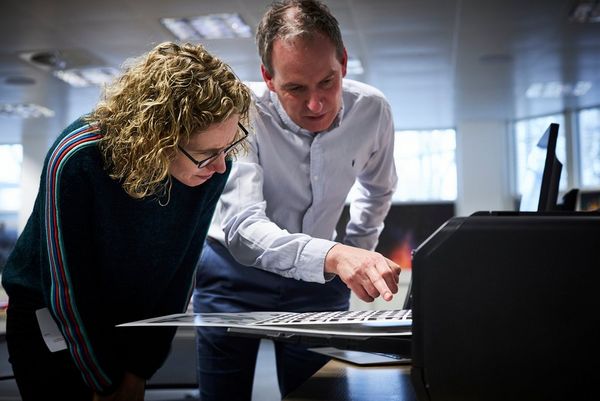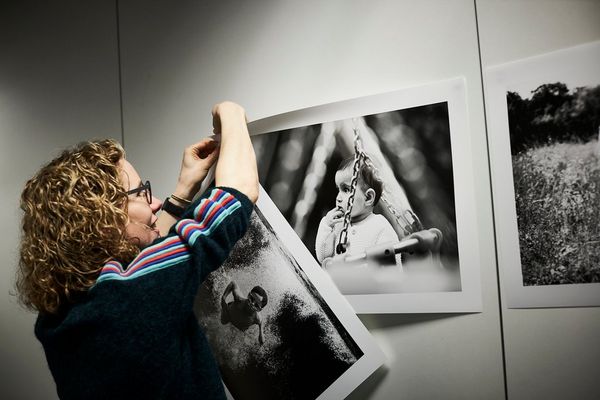 Preparing the perfect black and white photo print
Jay started by outlining his steps to a perfect black and white print. First was calibrating the screen, which he did with an X-Rite i1 Pro calibrator. Using the calibrator's software, he set it to the correct colour temperature to match a Canon printer, which is 5000K (D50). Sometimes, he explained, this means overriding a screen's default setting. He also chose the option to set the screen's luminosity to its correct level for printing – between 80 and 120, depending on the display. These steps help to ensure that Helen's printed photograph would exactly match the image she saw on the screen.
Next was selecting the correct ICC paper profile using Canon's free Professional Print & Layout plug-in, which works with Adobe Photoshop, Adobe Lightroom, and other image editing software, so will slot easily into existing workflows. All photographic papers have their own individual paper profiles, and it's essential to select the correct one. On the day, Jay and Helen used a range of Canon papers: Canon Pro Luster, Pro Platinum, Premium Matte, and Fine Art Smooth. All Canon's paper profiles are included when you download the printer driver.
Helen's image files had already had post-production work done on them, but Jay opened them in Adobe Photoshop to soft proof them. Using the Proof Setup > Custom options in the View menu, Jay was able to preview how Helen's image would look when printed on a particular type of paper. He then adjusted the image so that the preview matched Helen's file, and saved it as a separate file. This is vital to ensure that the final print will look as you want it, without you having to make numerous test prints and laboriously adjust the image each time.
The final step was adjusting the image using Canon's Professional Print & Layout plug-in, which he explained was the only tool you need to print your images after editing. Jay opened Professional Print & Layout via Canon's Digital Photo Professional software. Working through the menus, he selected the printer, the type of paper, paper size, paper tray and print quality, and set borders.
One feature Jay highlighted at this stage was Pattern Print, which is a great way to fine-tune your print settings. By clicking on Pattern Print, he brought up a work layout showing 49 variations of the image, all at slightly different brightness or contrast settings. He advised printing this out on the same type of paper Helen would be using, then selecting the image she most liked. Inputting the brightness and contrast settings beneath that image would ensure that the final print would match that image.
Printing the image at A2 size on a Canon imagePROGRAF PRO-1000 took around six minutes. Jay advised that Helen should view it using a lamp fitted with a 5000K (daylight) bulb, so she would see the print's colours accurately. He then outputted a number of Helen's images for her to view.
What to look for in a photo printer
Which Canon printer should you choose if you want to produce museum-standard black and white prints with rich blacks and nuanced greys?
"If you're mainly doing colours, the Canon PIXMA PRO-100S and the Canon PIXMA PRO-10S are phenomenal for doing semi-professional colour prints," says Jay. "But if you want to print black and white, I'd suggest the imagePROGRAF PRO-1000. The extra inks it uses create a greater range of grey tones and richer blacks. It prints up to A2 size, and the recent firmware update enables you to print panoramic images up to 1.2m long."
Printing on the Canon imagePROGRAF PRO-1000 is also cost-effective – Jay estimates the paper and ink costs around €5.25 for each A2 print. Canon's free software also helps with cost management as it tells you exactly how much ink is being used per print.
If you want bigger prints than A2, the same technology is used in larger format printers such as the Canon imagePROGRAF PRO-2100, PRO-4100 and PRO-6100.
The benefits of printing your own photos
Although there was a lot to take in during this session, Helen felt that once she had become familiar with the process it would be relatively straightforward.
"I'm not a very technically-minded person and vast quantities of print menus fill me with a certain amount of horror," she admits. "But once you break it down, it all actually looks very manageable."
Printing her own images would have the advantage of giving her complete control over the work she ultimately hands to her clients. "Just being able to make sure things are absolutely spot-on, and being able to tweak and change the images, would be great," she says. "I definitely think things like Pattern Print could be game-changing for me.
"I want the perfect end product, and how you get there isn't so important. In the same way that you buy an expensive camera because you want to produce the best work, if doing home printing is the way to get the best prints then that's what you need to be doing. You can also have so much fun with it. If you were doing competition prints, for example, and seeing how different images work on different papers, I think it would be amazing."
And how did she feel about seeing the high-quality A2 prints of her images produced by the Canon imagePROGRAF PRO-1000?
"Seeing those big prints, to be honest, makes me more excited about my work," she says. "When you hold a print, that image etches itself on your mind much more than other ways of viewing it."