Description
Dell DisplayPort to HDMI Adapter
Dell DisplayPort to HDMI Adapter. Enjoy uncompromised 4K content at 60 Hz with the adapter's seamless connection between PCs with DisplayPort and HDMI-compliant monitors.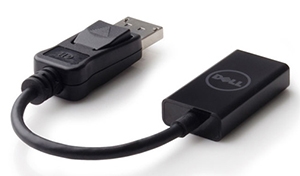 Connect with up to 4K resolution displays
With the Dell Adapter – DisplayPort to HDMI 2.0 (4K) you can connect your PC's DisplayPort to 4K displays with an HDMI input without compromising on picture quality. Enjoy a seamless connection between PCs with DisplayPorts and with multiple versions of HDMI (versions 1.2, 1.4 and 2.0) -compliant monitors, projectors and HDTVs.
An uncompromising view on the big screen with Ultra HD (4K) support
The adapter supports up to Ultra HD (4K) at 60 Hz, so you can experience incredible screen clarity while viewing your favourite 4K videos, playing games or making presentations on a large display.
Highly portable with a compact and lightweight design
Bring the adapter with you wherever your busy day takes you. Its compact and lightweight design makes it easy to carry around. Just throw it in your bag and head off to your next destination.
Get started right away with plug & play
With the added convenience of plug & play, you won't have to waste time trying to get your display set up. Simply connect the adapter from the DisplayPort on your PC to the HDMI input on your monitor, projector or HDTV, and get started right away.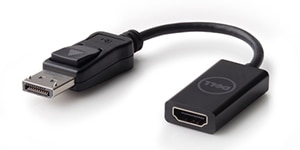 Compatibility
Compatible with Dell Platforms and backward compatible with all older versions of HDMI compliant monitors, projectors and HDTVs.
Specifications:
Tech Specs
Cable
Video adapter – DisplayPort / HDMI
Length
8 in
Connectors
DisplayPort – male
Connectors (Second End)
HDMI – female
See less
General
Cable Type
Video adapter
Interface Supported
DisplayPort / HDMI
Length
8 in
Quick Specs
Input
DisplayPort 1.2 Male (20 pins)
Output
HDMI 2.0 Female (19 pin HDMI Type A)
Throughput supported
6Gbps
Cable Length
200 mm
Resolution
4096×2160@ 60Hz/12-bit colour
OS Support
Win 7, 8.1, 10
User Experience
Plug & Play
Compatibility
Compatibility with Dell Platforms, backward compatible with HDMI 1.2 and 1.4
Min Dimensions (H x L x W)
9.5 x 200 x 22.5 mm
Take a look at our selection of Dell Products HERE