Your Computer Needs a Post-Lockdown Spring Clean
It's likely that your gaming or general home PC has become your all-day, work-at-home PC since the 2020 – 2021 COVID19 Lockdown, which means every part of it is getting dirtier and dirtier. Air and dust are being swept across your computer components the more those PC fans spin. At the end of the year, you'll probably be logging a lot of time in your desk chair to enjoy the well-deserved downtime. So let's spring-clean your computer before all that. Matrix Warehouse Computers offers PC Assessment & Cleaning Services, Visit your nearest store with your PC and we will do it all for you at an affordable fee! However, if you'd like to do it on your own here's some computer spring-cleaning ideas you should try.
Cleaning your keyboard
Start with the things you have right in front of you. We all take meals to our desks at least once in a while. Flip your keyboard over and give it a gentle shake. You'll experience a horrible shower of crumbs, dust, and tiny split ends, clean it up and flip your keyboard back up. If you have compressed air spray, spray it between your keys or just clean over them with a disinfectant wipe – and already your desk is starting to become as fresh as a daisy.
For a really thorough cleaning of a mechanical keyboard, you can indeed remove every single key. To do this you'll need isopropyl alcohol, dish soap, and cotton swabs. It could take several hours to do this, so it's recommended you save it for a day when you don't feel like playing any of your usual games or haven't got any work lined up to do.
Cleaning your mouse
You might not realize it, but your mouse is just as dirty. If you happen to have a rubber-coated mouse, an alcohol solution can make the coating sticky.
Wipe your mouse clean with dish soap and a damp cloth, plus for that extra hygiene, rub it down with isopropyl alcohol and cotton pads. Feel free to do the same with your gamepad and mousepad if you frequently use them.
Spring Clean your case
Turn off your computer, unplug everything and open that case up! The most troublesome areas will likely be the blades on your case fans, any filters protecting those fans, and any holes where air (and dust) escape the case. Make sure you get your machine off the carpet before you clean, this reduces the chance of static discharge to your components. All that dust can be blown away with a can of compressed air (AEROSOL Air Duster or Fellows Air Duster) or you can find a multipack of reusable microfiber cloths. Avoid using cloth on your motherboard and components if you choose cloth over the air. Make sure to clean your heat sinks, GPU, and other exposed electronics with a cheap toothbrush, or an old makeup brush. In the case of fans that are covered in a lot of loose dust, you should blow them clean while holding them still with one hand. For anything stuck on, you will need to wipe each blade individually, which calls for the cloth and brush. Just don't vacuum clean your computer, there's a genuine risk of damaging your components if you vacuum your PC, no matter how quick and easy it sounds. For even more detailed steps on defeating case dust, check out PC Gamer's guide on how to clean your PC.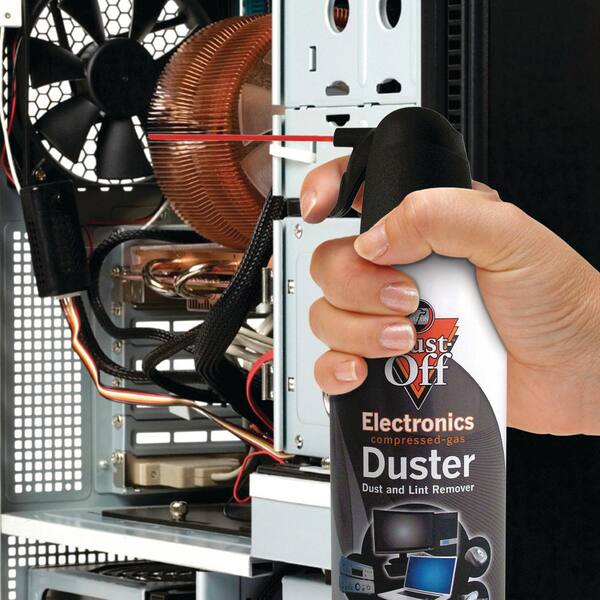 Cable Management is key
Check the cable management under your desktop before you turn on your machine. Do all of your HDMI cables, peripheral cables, and power cables dangle under your desk unorganised and un-neatened? To secure everything together, we recommend reusable cable ties and some cable management slots.
Lastly, the final touches: clean off your desk, monitors and exterior of your case with some disinfectant wipes, and there you go! Your PC is now happy and as good as new!
Article Source: PC Gamer