Description
Zyxel WAH7601 LTE Portable Router
The Zyxel WAH7601 4G LTE Portable Router, compared to a hotspot smartphone that performs other functions at the same time, extends battery life and provides better WiFi signal quality. Supported by 3GPP release 9 Category 4 mobile technology, the WAH7601 portable router is able to instantly provide a stable Internet connection with data rates up to 150 Mbps *. This compact plug-and-play device can be taken with you for a walk so that you and your friends always have an Internet connection.
3GPP Release 9 Category 4, data rates up to 150/50 Mbps * for inbound (DL) / outbound (UL) traffic
Connection speed 802.11 b / g / n 2.4 GHz 300 Mbps *
Micro SD card slot up to 32GB
Removable 2000 mAh battery provides up to 8 hours of battery life
Supports up to 10 WiFi clients
Benefits
Plug-and-play connectivity and high mobility
The Zyxel WAH7601 battery-powered portable 4G LTE router provides WiFi connectivity on the go. No matter where you are, you only need to insert a mini-SIM card into the Zyxel WAH7601 for a stable plug-and-play Internet connection. Connecting multiple users via WiFi using the WAH7608 frees the smartphone from performing the hotspot function, saves its battery power, so it can be used for other tasks. In addition, the WAH7608's data transfer optimization provides significantly faster WiFi connection speeds than using a smartphone as a hotspot.

Extended coverage worldwide
Although LTE services are already actively offered in many regions of the world, in some countries only 3G and 2G cellular services are still available, with different frequencies used for LTE in different countries. The Zyxel WAH7601 supports 4G / 3G / 2G multi-mode and multi-band functions, including TDD band 38 and band 40, which ensures compatibility with the networks of most mobile operators in the world.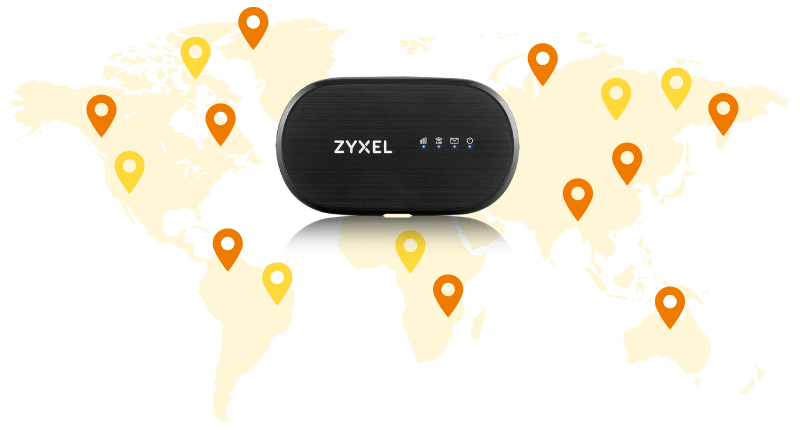 Convenient WiFi sharing
The main purpose of a portable router is to share the Internet with friends and family. Utilizing WiFi technology, the Zyxel WAH7601 portable router allows 10 WiFi clients to simultaneously use an instant and stable Internet connection. It will not only free up the resources of your smartphone, but it will also provide higher quality overall WiFi.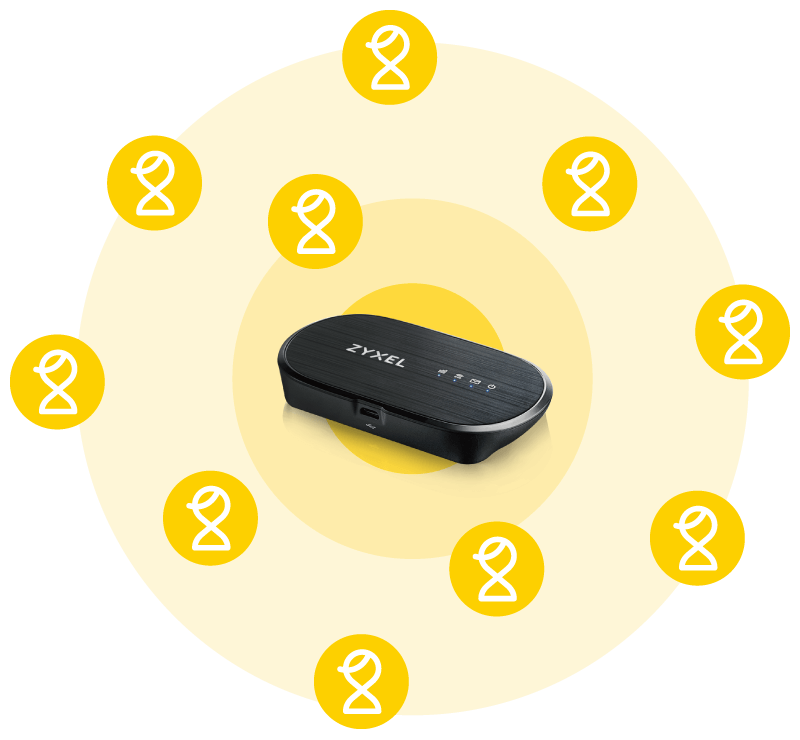 Long-term connection and increased safety
Powered by a built-in battery, the WAH7601 offers a better internet connection and longer battery life than a smartphone hotspot because it has no other apps to interfere with shared WiFi. Instead of conventional lithium-ion batteries, this device uses a lithium-polymer battery that can withstand higher temperatures and is, therefore, safer to use.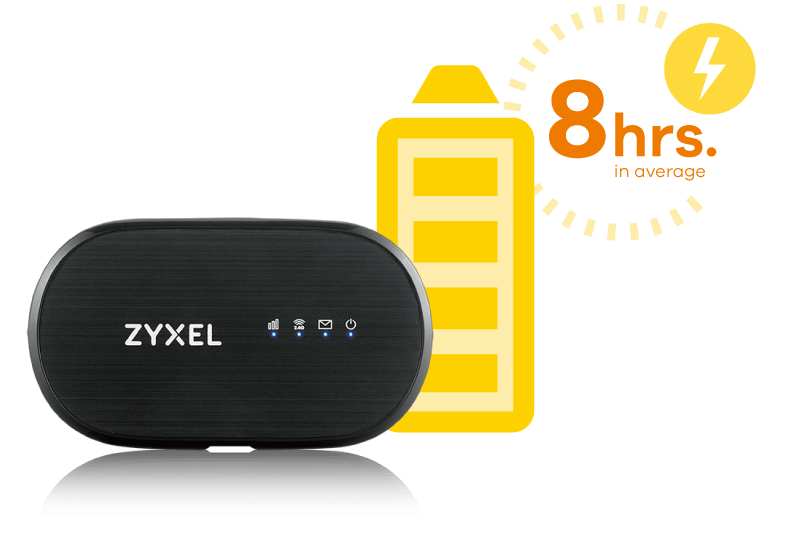 Specifications
System
System functions
Web UI / support for different languages
Sharing SD card content (via Wi-Fi)
SMS / Quota / APN / PIN Management
Selecting a cellular network
Data usage / statistics
DHCP server
NAT
IP firewall
Proxy DNS
VPN pass-through
RNDIS USB device / USB tethering
Wi-Fi hotspot functions
802.11 b / g / n 2.4 GHz, 300 Mbps connection speed *
Auto Channel Select (ACS)
Number of simultaneously served Wi-Fi devices: up to 10
Hidden SSID
Security modes: WPA / WPA2 PSK and WPA / WPA2 mixed mode
EAP-AKA authentication
AP Power Saving Mode
Access control: black/white list STA
Filtering by MAC addresses
WPS: PIN and PBC, WPS2.0
Hardware
LTE Air interface
Standards Compliance: 3GPP release 9 category 4
Supported frequencies: B1 / 3/7/8/20/28/38/40
LTE antenna: 2 internal antennas
Peak Data Rate:

150 Mbps * DL traffic for 20 MHz bandwidth
50 Mbps * outgoing traffic (UL) for 20 MHz bandwidth
UMTS Air interface
DC-HSDPA / HSPA + compliant
Supported frequencies:

HSPA + / UMTS band 1/2/5/8
EDGE / GPRS / GSM band 3/8
Downlink speed up to 42 Mbps *
Outgoing traffic speed up to 5.76 Mbps *
WiFi Air interface
Standards Compliance: IEEE 802.11 b / g / n, 2.4 GHz
2.4GHz WiFi antennas: 2 internal antennas
Speed: 300 Mbps for 2.4 GHz *
Hardware interfaces
USB 2.0 for high-speed network access
One mini SIM (2FF) slot for UICC / USIM card
One slot for Micro SD memory card up to 32GB
Buttons:

Power off
WPS button
Reset button

LED display

Food
2G / 3G / 4G cellular network status
Wi-Fi status
SMS status
Battery
Removable lithium-polymer battery
3.7 V, 2000 mAh
Up to 8 hours of battery life.
(depending on the configuration of the wireless network).
Energy consumption
Physical characteristics
Dimensions without packaging (WxDxH): 110.0 x 63.0 x 15.7 mm
Unpacked weight: 105g
Package Size (WxDxH): 110.0 x 63.0 x 15.7mm
Shipping Weight: 105g
Environmental requirements
Exploitation
Temperature: 0 ° C – + 40 ° C
Relative humidity: 5% – 95% (non-condensing)
Storage
Temperature: -30 ° C – + 70 ° C
Relative humidity: 5% – 95% (non-condensing)